Dive into the creamy, cheesy world of chicken Alfredo pizza and bring an Italian twist to your dinner table tonight!
Nothing can quite compare to the luxurious, creamy taste of Alfredo sauce. Now, couple that with the comfort of pizza, and you're on to a winning dish. Chicken Alfredo pizza offers the perfect blend of rich, cheesy Alfredo sauce, tender chicken, and the crispy crust we all adore. Whether you're looking for a twist on your regular pizza or a creative way to use up leftover Alfredo sauce, this dish has you covered.
Frequently Asked Questions
What size of pizza does this make?
This recipe is tailored for a 12-inch pizza.
Can I use homemade Alfredo sauce or homemade pizza dough?
Absolutely! For those who love to go the extra mile, you can always make your own alfredo sauce or pizza dough.
Do I need both types of cheese?
Not necessarily. If you prefer using just one type, ensure you have a total of 2 cups.
Can I add other toppings?
Of course! Popular vegetable add-ons include bell peppers, diced tomatoes, olives, and mushrooms.
What if I don't have a pizza stone?
If you don't own a pizza stone, a regular baking sheet will do. Ensure you preheat it for best results.
Substitutions
If you don't have Alfredo sauce on hand, a rich béchamel sauce can serve as a base.
No mozzarella? Feel free to use cheddar. Just ensure your total cheese quantity is around 2 cups.
Vegetarians can omit the chicken and increase the amount of veggies.
Tips From the Chef
For a crisper crust, preheat your pizza stone or tray in the oven before placing the dough on it.
If using veggies like mushrooms or bell peppers, sauté them slightly before using as toppings to remove excess moisture.
Cheese lovers can create a cheese blend using different types for a richer flavor profile.
Ovens can be unpredictable. While the given cook time is a guideline, it's crucial to be guided by visual cues. A perfectly baked chicken Alfredo pizza will have a golden-brown crust and bubbly, slightly browned cheese on top.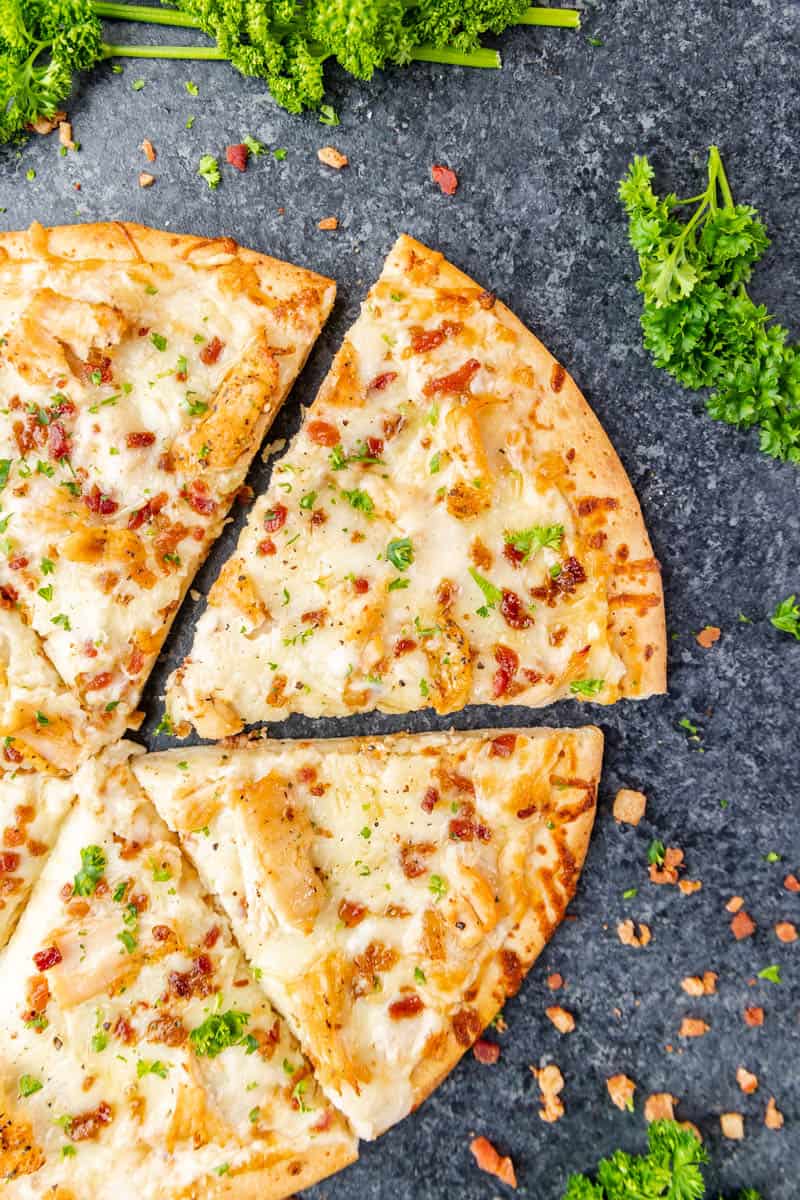 Storage & Reheating Instructions
If you have leftovers, store your pizza slices in an airtight container in the refrigerator for up to 3 days. For freezing, place individual slices on a baking sheet until frozen, then transfer to a freezer bag for up to 2 months. To reheat, use an oven or toaster oven at 375°F until heated through, usually 10-15 minutes from the fridge or 20-25 minutes from frozen.