Blend the classic flavors of pizza with the comfort of a quesadilla—introducing the must-try dish that everyone's talking about.
Marrying the rich flavors of pizza with the comfort of a quesadilla brings together two beloved dishes in a unique and delightful way. This mouthwatering fusion offers the satisfaction of a pizza, all enveloped in the warm embrace of a tortilla. What's more? It's so quick and easy, making it an excellent choice for quick meals, casual gatherings, or even a weekend treat.
Frequently Asked Questions
Can I use a different type of tortilla?
Absolutely! While the recipe suggests flour tortillas, you can experiment with whole wheat, spinach, or even gluten-free variants.
Is the butter necessary?
Butter enhances flavor and helps in browning the tortilla. However, you can also use olive oil or non-stick spray for a lighter version.
Do I have to use mozzarella cheese?
Mozzarella is recommended for its melting quality, but feel free to use your favorite meltable cheese like cheddar or Monterey Jack.
Substitutions
Butter: Olive oil or non-stick cooking spray.
Pizza Sauce: Homemade tomato sauce, pesto, or even BBQ sauce for a twist.
Mozzarella Cheese: Cheddar, Monterey Jack, or a blend of your favorite cheeses.
Pepperoni: Any protein or vegetarian alternative like chicken, tofu, or tempeh.
This recipe contains dairy (cheese) and gluten (flour tortilla). For those with allergies or sensitivities, consider using dairy-free cheese alternatives and gluten-free tortillas.
Toppings/Fillings
If you prefer more toppings than just a pepperoni pizza quesadilla, give these a try!
Canadian bacon
Sausage
Mushrooms
Olives
Onions
Bell peppers
Whatever you would put on a pizza! 
Tips From the Chef
Ensure your skillet is pre-heated before adding the tortilla to achieve even browning.
Avoid overfilling to prevent spillage and ensure even cooking.
Customize your fillings! As noted, feel free to add ingredients like Canadian bacon, sausage, mushrooms, olives, onions, bell peppers, and more.
For a crisper quesadilla, lightly brush the tortilla's outer layer with butter or oil.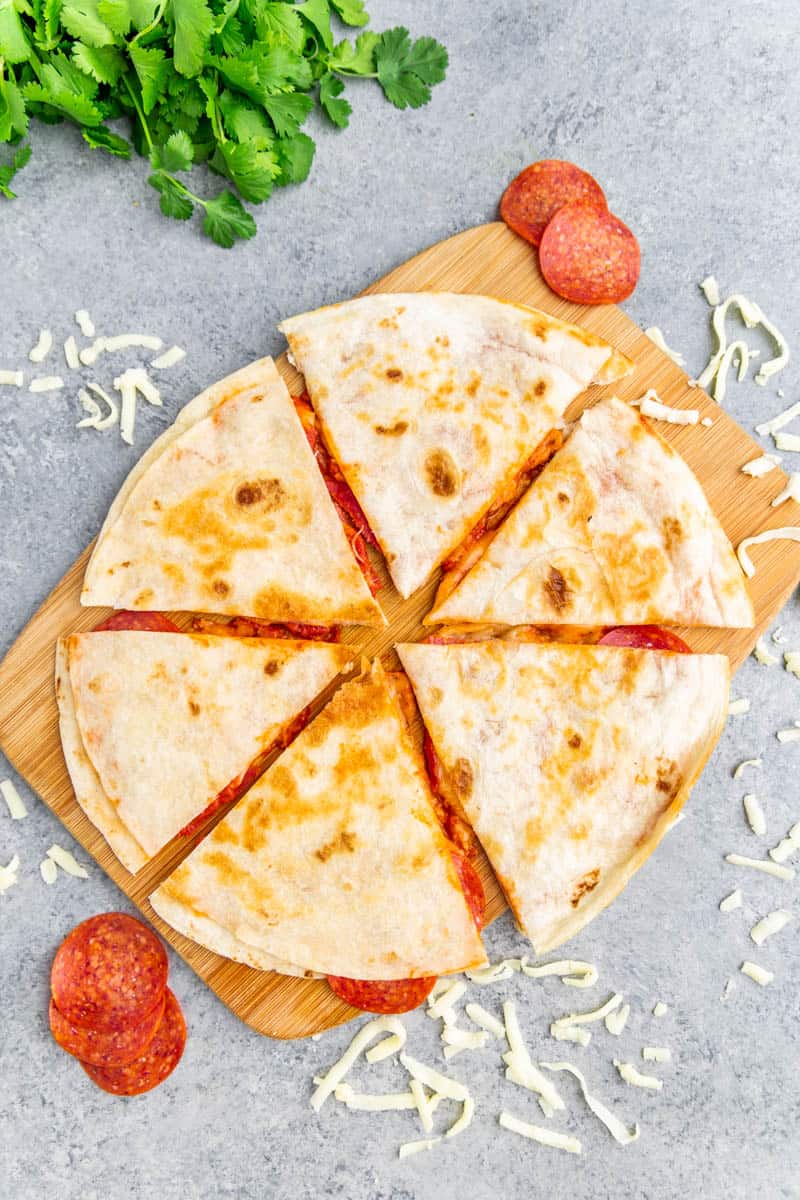 Storage & Reheating Instructions
Cool any leftovers to room temperature, then store them in an airtight container. They'll stay fresh in the fridge for up to 3 days. To reheat, use a skillet over medium heat or an oven preheated to 350°F until warmed through. If you have a batch you'd like to freeze, wrap them individually in plastic wrap before placing in a freezer bag. They can be frozen for up to a month. Reheat directly from frozen following the same skillet or oven method.